"This was one of the best times I have had in my 61 years. Thanks to all!" Larry & Pat, Calif.
"Well Jeff - another great day of dogsledding with the pups. It was fun 3 years ago - I just had to come back for more. What a great time." Linda, N.Y.

"Everybody should do this - as good as sex" Mark, England

"You can tell you're a true dog lover because your dogs all love you. Their temperaments are wonderful. Thank you so much for your kindness and sharing your animals." Candee, WA.

"What a piece of heaven! Great experience of a lifetime." Frances, Tara and Rick, Florida

"When the locals love you and keep coming back, you know you're the best!" Stu and Debbie Whitefish, MT

"What an experience! Wonderful, your dogs are so happy." Eleanor and Roger,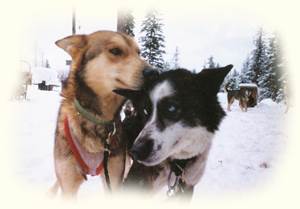 Scotland
"When can we come back? Thanks" Wendy and Wayne, Australia
"Incredible. Definitely the most fun in a long time. What an adventure. The dogs loved it and so did I. Will do this again!" Tammy, Mike and Jaeven WA.

"We laughed and laughed and had a wonderful time, would recommend it highly to anyone." Gretchen, CO.

"Brilliant - Jeff I have been waiting all my life to meet you and your dogs. Thanks " Annita, England

"Super way to spend our honeymoon-can't wait to do it again!" Mahalo! Sean and Katie, Hawaii

"What a ride!! We caught some huge air! This made my winter! Loved it!!" Ellie, Whitefish,MT.

"We had such a good time! I'm not sure if the dogs had more fun than we did." Kam, VA

"A great chance to be a part of a true working team in a beautiful environment> What a way to see nature!" Bobby, VA

"It was great! We were thrilled and well entertained and cared for. Blessings to you and the super dogs." Carolyn and David, PA

"Beautiful country and snow! Enjoyed the ride way more than expected! We were amazed with the dogs and their actions! Would recommend to all. Thanks" Kevin, Jennifer and Sydney, Texas